In Memoriam—Bill Streng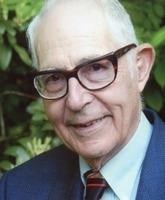 George William "Bill" Streng IV
June 19, 1926 - March 20, 2021 Davis, California - Bill Streng, 94, passed away on March 20, 2021, at his home in Davis, California. He had lived 45 years in the same house in Covell Park, which his own company had built in 1977. He was born George William Streng IV, in Scranton, Pennsylvania, on June 19, 1926, to George William Streng III and Marian Morris Heraty. Bill graduated from Scranton Central High School, and attended Dartmouth College. He interrupted college to join the U.S. Army where he became a Master Sergeant and served from 1944 to 1946. While in Germany after World War II, Bill met his first wife, the petite and lovely Johanna Meckel, when he was 19 and she was 16. At their first meeting, they swam across the Rhine River together on a Dare.
They were married in 1950. Bill graduated with combined Bachelor's and Master's degrees from the prestigious Tuck School of Business at Dartmouth in New Hampshire. Bill's father had died suddenly while he was overseas. Bill was 18 and his brother, Jim, was 14. Bill became a Certified Public Accountant and worked in New York City and later in San Francisco. After he earned his C.P.A., his mother's brother In California, Phil Heraty, invited Bill and Jim to relocate on the West Coast and work in Phil's Construction Company. The young men worked 7 days a week and Uncle Phil rewarded their work ethic with invaluable business experience and by allowing them to purchase his company when he retired. Thus, Streng Bros. Homes was born in 1957. Bill and Johanna started a family in 1954, in Oakland California. They subsequently lived in Sacramento and finally Davis. They had 3 children.
Streng Bros. Homes thrived when the two siblings found a recipe for success: A certain gifted architect called Carter Sparks, plus the brilliance of Bill, plus Jim's charm with customers plus the tireless dedication of both men equaled unique tract homes that defined the neighborhoods they graced. These contemporary houses had flat roofs (who needs peaked roofs when you live in a place without snow, after all), atriums bringing a garden atmosphere indoors, large windows letting in light, open-beamed ceilings, and cost-saving features such as humble yet durable materials such as plywood, tar-and-gravel, brick and steel. The thing that made the homes truly wonderful and special was that young families could afford them, at $23,100 in 1960 for a 3-bedroom house with 1,714 square feet. Homebuyers often chose to modify the basic plan to suit individual tastes. The Streng Brothers were determined to have high quality, sturdy dwellings that would stand up against the test of time, available to all comers. Eventually the brothers divided forces, with brother Jim maintaining the business in Sacramento County and Bill becoming a Land Developer in Yolo County. Throughout Bill's long life, his brother remained one of the most important people in it. "We never had a fight or a serious disagreement," he told me recently. Bill and Jim were inducted into the California Home Builders Hall of Fame in 1996. Together they sold 3,800 houses over 30 years. A 2011 report by Caltrans identified Streng Bros. Homes as one of the "nine most important merchant builders in California during the 30 years that followed World War II."
In 1970, Bill's workaholic ways caught up to him and his wife Johanna "fired me" as he liked to tell the story. The couple divorced and were remarried each fairly rapidly, with Bill falling in love with his next-door neighbor, the tall, slender and talented Karmen Gallo, a Social Worker and Quilter, and a single mother with two sons. To celebrate the 1970's, Bill began to sport colorful plaid sports jackets and neckties sewn by his new bride, often with dazzling patterns and color combinations. Bill was a self-made man, who liked to describe himself as a "Horatio Alger Success Story." He had many interests, among them a lifelong love of Sports. He was an avid Oakland Athletics Fan from the time the Kansas City Ball Club came to the Bay Area in 1968. He supported the Davis Aggies Women's Basketball Team and Men's Football Team, earning his own parking space near the field. In his youth Bill taught young campers to swim as an Eagle Scout in charge of the Beginners, and earned their parents abject gratitude. He was a Manager for the Dartmouth Football Team. He was a Bowler in his 30's. He discovered his true passion on the slopes with downhill skiing in Squaw Valley and every other ski resort within 2 hours of his home. Bill skied until age 75, when he was told by his doctor that falling was too risky. His love of sports extended to card games, including Solitaire and Casino. He was a Life Master Bridge Player and played up to nearly the last stage of his life. Bill was an avid reader, a devotion he passed on to his children. He loved to read novels involving Attorneys and Crime, as well as every book ever published on Bridge and Beating the Stock Market.
Among his business associates, Bill Streng was known as a truly inspirational coach and mentor, nurturing young Davis businessmen in their careers. The Davis Chamber of Commerce Annual Business of the Year Award was named for him. Bill truly loved the community of which he was a true Pillar. He was a loyal and active Davis Rotarian into his 90's.
Despite considering himself tone-deaf and while asserting numerous times that the majority of rock 'n roll and classical music was less pleasing than flatulence, he loved John Philip Sousa, all Military songs and was a devoted supporter of the Annual West Coast Ragtime Festival. Bill was Chairman of the Board of the Bank of Woodland (Business and Professional Bank) from 1983 to 1997. At this time, he retired his psychodelic wardrobe and adopted more conservative solid-color sartorial combinations. However, he was always a man who never felt fully dressed without a necktie. Bill is survived by his devoted wife Karmen of 49 years, whom Bill liked to call "The Ayatollah Kharmeini," as well as his children (biological and by marriage), Monica Lillya, a Reading Specialist, George William Streng V, a Photographer, Lenny Husen M.D., a Physician, Martin Gallo, an Aeronautical Engineer and Kevin Gallo, a Physical Education Teacher. He is also survived by four grandchildren: Scott Roberts, Sarina Madan, Mark Lillya, and Shane Lillya. Bill was a man who lived as if he were immortal. His very long life was one marked by good health and STRENGth well into his 80's, a genius mind that rejoiced in the raw materials of land and money, a lack of self-doubt, combined with a quirky sense-of-humor which startled strangers, dismayed his family at times, and delighted friends. His greatest gift was a love of living unrivaled by very few of us. When closing conversations, as in all else, Bill Streng had his own unique style. So we will end with those signature sign-offs, "Onward and Upward!" and "Very Good, Good-Bye!"
In honor of Bill's love of a good tale, the family requests that you share any stories or remembrances about Bill Streng to DrHusen@gmail.com. It would be a great comfort to hear about his impact on your life. We will publish the photos and memories at a later date online. Let us know if you would like to be contacted with the link to the site.