In Memoriam—Ken Ebi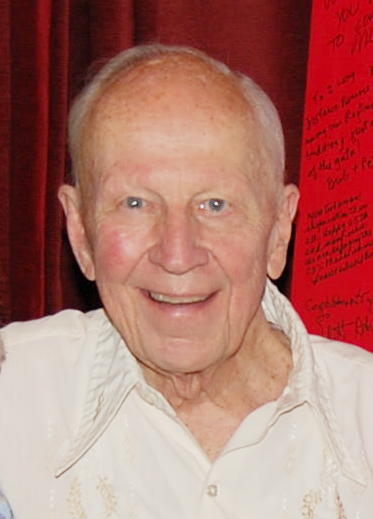 Kenneth Ade Ebi, Jr. died in Fair Oaks, CA 12/7/18, age 95. Born 9/3/23, in Moline, IL to Gladys Whiteside & Kenneth Ebi. Survived by and married over 74 years to beloved wife Dorothy Hendel Ebi. Also survived by brothers Albert of Dearborn, MI, Alan of Kirkland, WA, and sister Mary Ahearn of Tuscon, AZ. Survived by son Ken Ebi, III of Grass Valley, CA; daughters Carol (Michael) Kennedy of Roseville, CA, Alice (Kirk) Kestler of Kalispell, MT, Nancy (David) Cox of Lincoln, CA, Jan (Eric) Ebi-Deprey of Kirkland, WA, and Sara Ebi of Citrus Heights, CA; grandchildren Justin and Shawn Kennedy, Patrick and Ryan Cox, Elizabeth Kestler; and nine great grand-children.
Ken was an Eagle Scout, graduate of Moline High School and Culver Military Academy. Served in WWII, 7th Infantry Div. in Okinawa as 1st Lieutenant in Army Corps of Engineers. Graduated University of Illinois with BS in Mechanical Engineering. Member of DKE Fraternity. Joined Aerojet General Project Gemini team, 1962.
He founded Sierra Copy in 1966, retired in 1993.Traveled the US, Canada, Mexico, and all 7 continents with wife Dorothy. Long-time members of local Jazz & Ragtime Societies. Rescued German Shepherds and Corgis. Memorial Service Monday, Dec. 17, at 1:00 pm, Price Funeral Chapel in Citrus Heights. Donations may be made in Ken's memory to the Salvation Army.